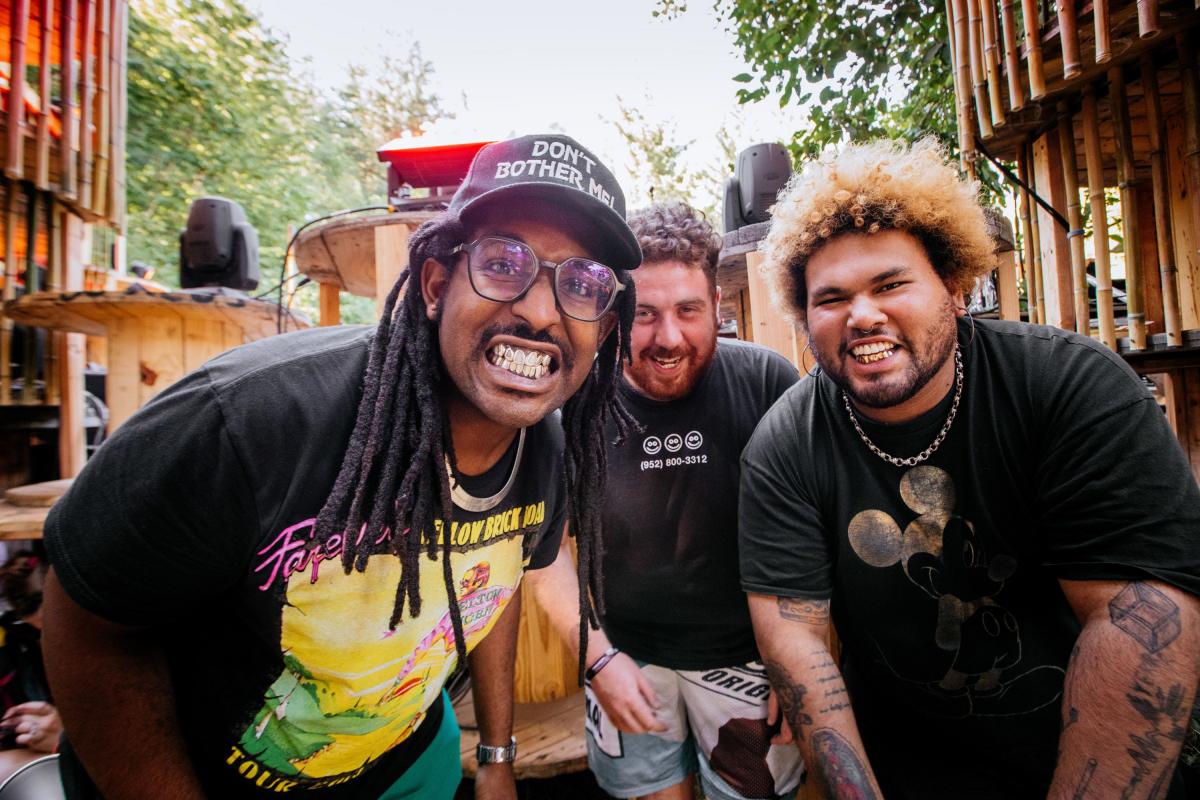 Late December 2020 found Soul Glo holed away in an unfinished warehouse, beginning to find drum tones for their upcoming full length,
Diaspora Problems
. They had just begun to accept that they would be in talks with
Epitaph Records
, and that it was likely they were going to go with the label as they hadn't even begun to reach a place where they could consider shopping it to other record labels. Working with Epitaph was far and away the best case scenario that the band could've hoped for, but they simultaneously wondered if the label had any understanding of what they were getting into.
From 2016 to 2021, Soul Glo conceptualized and produced
Diaspora Problems
nearly completely alone. The demo and tracking process was handled exclusively by the band's
bassist GG
and engineer/close friend
Evan Bernard
. The final tracks were recorded in that same unfinished warehouse and the band's practice space during the hottest parts of summer 2021.
Thematically,
Diaspora Problems
is a simple analysis of where Soul Glo currently finds themselves: poised to leap into their future, for better or worse, with nothing but their life experience and lessons learned to communicate, and only each other to rely on. Lyrically, the album deals with analyses of the music industry as it exists through the eyes of people who are experiencing it for the first time. Aside from that, the concepts explored include an artist and individuals' self-doubt and self-hate, past traumas that can only be worked out in adulthood, financial instability and how it affects an artist, the effects of institutional and state violence, and the power of community that delivered Soul Glo through each struggle the band has endured from their inception and before.
Diaspora Problems
is only the beginning of what will undoubtedly be a bright future for Soul Glo, as well as a forecast for what the band is capable of musically. Hardcore punk is at the precipice of a sonic revolution as a higher variance of people find room for themselves and the expression of their lived experience within the genre. More and more people will be injecting a cultural identity and offering a narrative previously unheard and/or underappreciated by punk rockers and kindred spirits the world over. Diaspora Problems is not aiming to be the only album like it that exists, but instead one of many entries in a new dawn for rock music.
***

About MS PAINT:

Without hearing their music, it would be reasonable to assume MSPAINT is a hardcore band. The Hattiesburg, Mississippi quartet spent the past three years opening for the likes of Soul Glo, Militarie Gun, and Gel with a fervor that goes toe-to-toe with the headliners. But MSPAINT come from a college town known for "lighthearted" music, and their synth-punk is an unlikely contender for the co-sign of national hardcore bands: "I feel like a jester up there, watching people fucking spin-kick each other to our music," vocalist Deedee recently admitted. On their debut album Post-American, MSPAINT introduce themselves as a band whose barked vocals are better fit for retro synths, experimental electronica, and blown-out bass. Consider them an industrial art-punk group that sits with the Doc Marten anarchists at the cafeteria table.
 
-Pitchfork

***

RIFYL: Circa Survive, Touche Amore, Glassjaw, Fever 333, Gouge Away, Loma Prieta, Rage Against The Machine, System of a Down, Turnstile, Death Grips, Blood Brothers, Refused, letlive, Mannequin Pussy, Idles, Run The Jewels, Solange, Rico Nasty, Spellling, Pink Pantheress, Scarlxrd, Slipknot