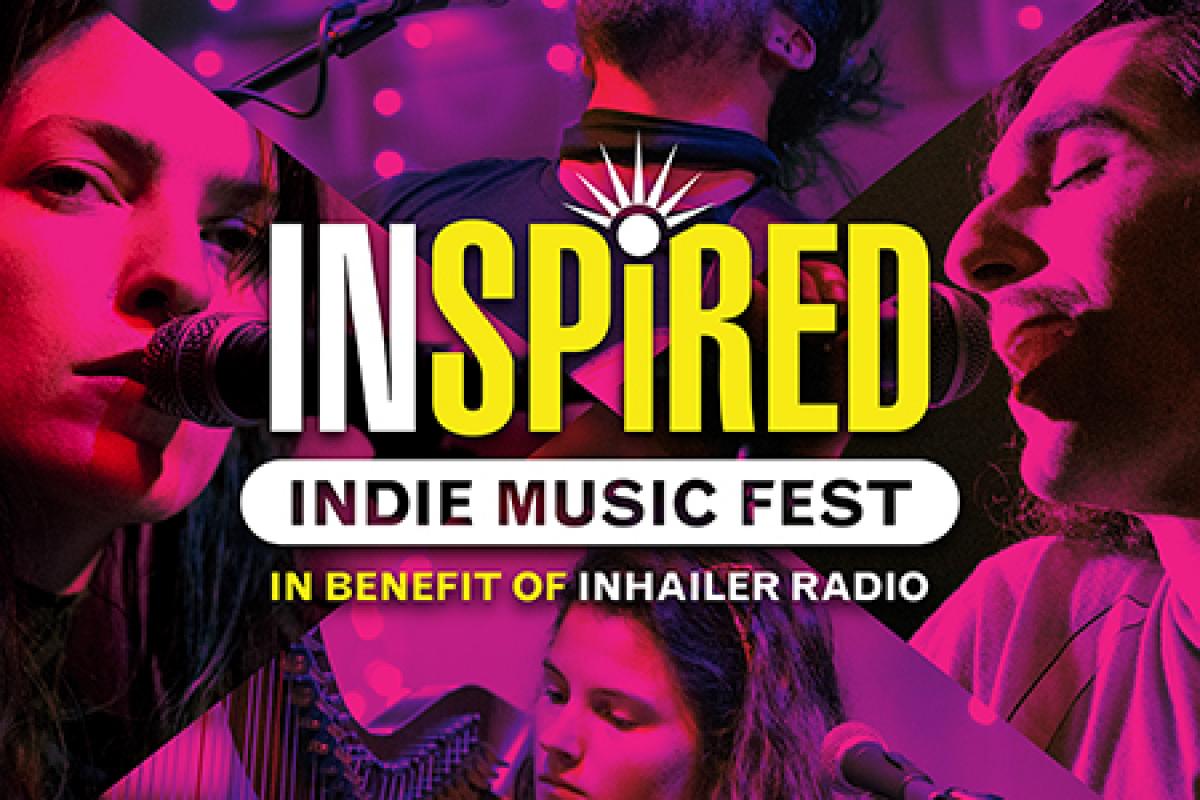 Woodward Theater Presents:
Event:
INSPIRED MUSIC FEST 2023 IN BENEFIT OF INHAILER RADIO
Date: Friday, November 24 & Saturday, November 25
Time: 6 doors, 6:30 show
Venue: The Woodward Theater | 1404 Main St., Cincinnati, OH 45202 | (513) 345-7981 |
news@woodwardtheater.com
Admission: $20 advance / $25 day of show
Ages: 18+
Information / Tickets: https://www.woodwardtheater.com/
Event Page:
https://www.facebook.com/events/840292970815779
* $2 off any sandwich across the street at MOTR on day of show with proof of purchase *

***
(Cincinnati, OH)
–
Inhailer Radio
, in partnership with
Donuts n Akahol
, announces the official lineup of musicians playing
Inhailer Presents: Inspired, An Indie Music Fest in Benefit of Inhailer Radio
(Inspired) on November 24th and 25th at Woodward Theater.
Hosted by Donuts n Akahol founder Graval Baehr, the Inspired lineup is as follows:
Friday, November 24th:

•Coastal Club
•Moonbeau
•Multimagic
•Mosant
•This Pine Box
•Sungaze
•Boy Bandicoot
•James Dapper
 
Saturday, November 25th:
•The Yugos
•Physco
•Coast Off
•TasteFull
•Turboslacker
•Annie D
•Computersad
•Barleaux
 
Tickets
are on sale now and can be purchased online at
Inhailer.com/inspired
or at
woodwardtheater.com
and
Shake It Records
. Advance ticket prices are $20 for single day admission and $35 for both nights. Ticket price at the door is $25.
Inspired is happening Friday and Saturday, November 24th and 25th at 6:00pm at the Woodward Theater, 1404 Main St., Cincinnati, OH 45202. C
elebrating Cincinnati
's exciting, ever-evolving music scene, Inspired will showcase 16 area bands over two nights performing originals as well as covers of songs by the influential figures who inspire them. Local vendors will have booths upstairs, and attendees can enter a raffle to win one of several specially curated gift baskets filled with a range of goodies from area businesses. Everyone is encouraged to dress up as their favorite inspiration!
Inspired is the epic culmination of the inaugural
Inhailer Fall Fund Drive
to raise funds to cover operating expenses of Inhailer Radio, Cincinnati's premier independent radio station.
Inhailer Radio thanks sponsors Joseph Toyota, Bircus Brewing Co., and Brew River at Sonder, who are generously supporting Inspired through both cash and in-kind donations. Several sponsorship opportunities are still available.
Please visit
Inhailer.com/inspired
for tickets and more information. Please contact Julie Clay at
Media@Inhailer.com
or call 239-572-0266 for press pass requests, sponsorship questions, and interview opportunities with Inhailer programming staff and/or participating musicians.
Inspired by the late, beloved station WNKU, Inhailer Radio was born in 2017 to not only maintain a platform that differentiated from mainstream radio play, but to provide a much-needed platform for local music in Cincinnati and beyond. Streaming 24/7 with DJs seven days a week, Inhailer Radio helps you find your new favorite band.
ABOUT DONUTS n AKAHOL:
Donuts n Akahol
is a platform to spotlight musicians and artists from Cincinnati and surrounding areas. DnA initially started as a YouTube interview series in 2017 and has since ventured into live event curation. Donuts n Akahol is committed to providing artists with opportunities to hone their craft and tell their stories.
Julie Clay
Director of Media
Inhailer Radio