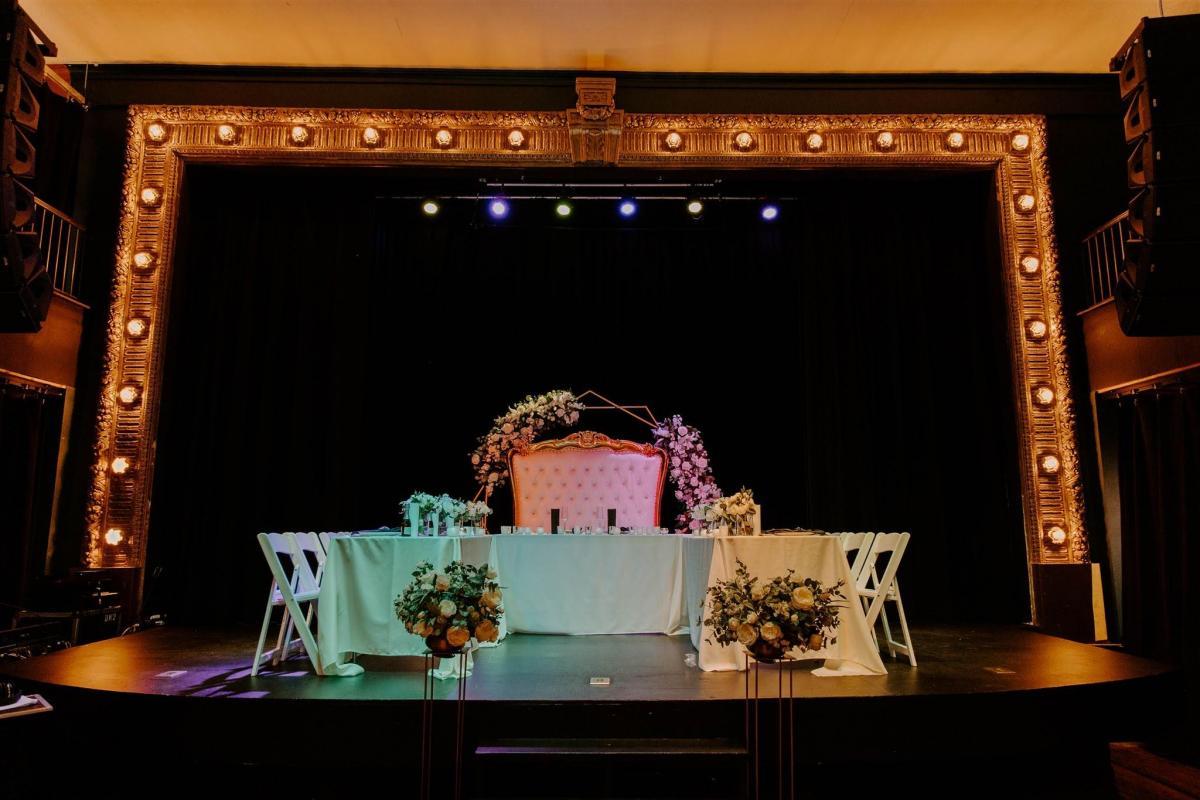 When it comes to wedding receptions, floral arrangements play an integral role in creating an enchanting atmosphere. 
In choosing floral arrangements for a wedding reception at the Woodward Theater, the couple should keep in mind the theater's interior color palette of mallard-green walls, brown floors and copper bartop, black stage and curtains and white pillars and ceilings. As for linens, the Woodward provides three colors from which to choose: black, ivory and navy. Any of these three colors of linens are included in the base rental price of the Woodward Theater. Clients can pick other colors of linens at an additional cost.
Classic, Timeless Elegance: For couples who desire a traditional and timeless wedding ambiance, classic floral arrangements remain a popular choice. Vintage-inspired bouquets filled with roses, peonies, and hydrangeas add an air of romance and elegance. Centerpieces featuring cascading floral arrangements or arrangements in antique vases evoke a sense of timeless charm. A color palette of soft pinks, whites, and creams further enhances the classic aesthetic.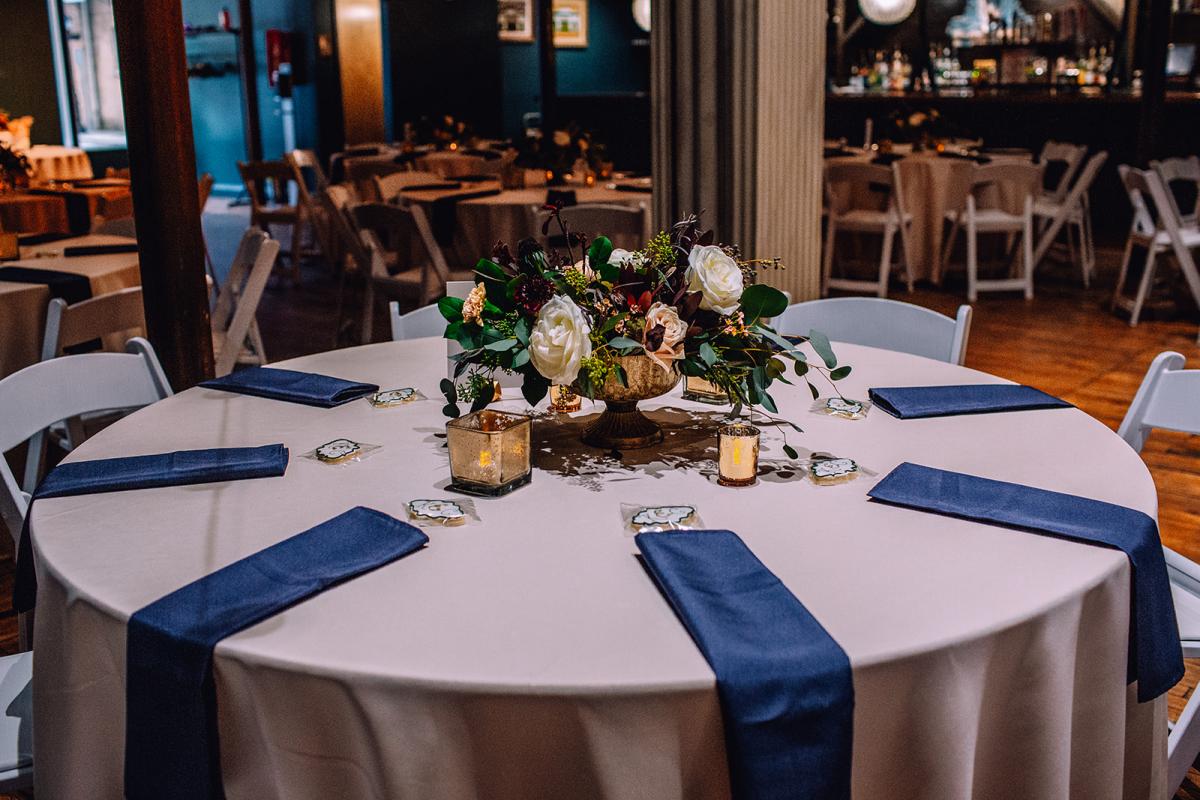 Rustic-Chic Charm: Rustic weddings have gained popularity over recent years, and floral arrangements have embraced this trend with open arms. Couples are opting for wildflower bouquets, incorporating a variety of blooms in different sizes, shapes, and colors. Mason jars, wooden crates, and vintage containers are popular choices for centerpieces, giving off a rustic yet charming vibe. Dried flowers and foliage can also be incorporated to add texture and depth to arrangements. Earthy tones such as soft greens, blush pinks, and burnt oranges are commonly used in this design style, taking inspiration from nature's beauty.

Modern Minimalism: For couples seeking a sleek and sophisticated look, modern minimalism is the way to go. Minimalist floral arrangements focus on simplicity, using only a few types of flowers arranged in a clean, structured manner. Monochromatic color schemes, such as all-white or all-green arrangements, create a contemporary and elegant atmosphere. Geometric vases and containers add a touch of modernity, while negative space within arrangements adds visual interest.

Whimsical Bohemian: Bohemian-inspired weddings have become increasingly popular, and it's no different for floral trends. This style embraces all things natural and free-spirited, with a focus on ethereal and whimsical elements. Bouquets often feature an array of vibrant and colorful flowers mixed with greenery and unexpected elements such as feathers or ribbons. Floral crowns are a staple for bohemian brides, adding a whimsical and romantic touch. Tablescapes are adorned with arrangements that appear effortlessly gathered from a meadow, with mismatched vintage vases and eclectic elements creating a bohemian wonderland.




Dramatic and Bold: For those who want to make a statement, dramatic and bold floral arrangements are perfect for stealing the show. These arrangements combine a variety of blooms in vibrant shades, showcasing a dramatic contrast. Oversized floral installations, such as hanging floral chandeliers or arches bursting with blooms, create a breathtaking focal point. Dark and moody color palettes with deep reds, purples, and blacks evoke a sense of mystery and allure.

Sustainable and Eco-Friendly: In recent years, there has been a growing emphasis on sustainability and eco-friendliness in the wedding industry. Couples are now opting for locally-sourced, seasonal flowers, reducing carbon footprints associated with transportation. Bouquets and arrangements can be wrapped in eco-friendly materials such as organic cotton or recycled paper. Potted plants and succulents also serve as long-lasting alternatives to cut flowers. Additionally, couples can donate their floral arrangements to nursing homes or hospitals after the wedding, spreading joy to others and reducing waste.